Encouraging teachers is an important part of our ministry. If you ever visit our booth at a Christian school convention or a homeschool convention, you will probably notice our devotionals for teachers. One devotional we love to share is called Apples for Teachers: A Daily Devotional from the Book of Proverbs. Here is an encouraging devotion on Proverbs 7:1–2.
How Important Is God's Word to You?
Proverbs 7:1–2
"My son, keep my words and treasure up my commandments with you; keep my commandments and live; keep my teaching as the apple of your eye" (ESV).
Apples are a teacher's gift. Early in American education, students (coming from an agrarian culture) had little else to give a teacher. Thus, the apple became a symbol of education. However, the apple mentioned in Proverbs 7:2, is not the apple of educational lore.
The word here translated apple is the Hebrew for "pupil" of the eye. The passage teaches that we are to keep and protect God's Word with the same intensity and sensitivity that we protect our eyes. Think about it—does anything cause a quicker hand and eye reaction than when an object flies at our eye? Our eyes are the most sensitive part of our bodies, and our natural instinct is to protect them at all costs.
Christian teachers are here instructed to keep God's Word with the same sensitivity they have for their eyes. The best "apple" for a classroom is the Word of God. But do we keep it? Do we lay up God's commandments in our classroom?
When a situation arises, do we use the written Word as the authority, or do we use our words? When students struggle with a subject, do we use Philippians 4:13 to make them a believer? When students fear a test, do we quote verses that give them courage, or do we shame them for being afraid? When students misbehave, do we show them which verses of Scripture (or biblical principle) they are violating, or do we simply rebuke them? When God answers prayer, do we show them that God's Word works?
Final Thought
Perhaps the greatest thing we can teach our students is that God's Word really does work! It is meant to be practiced, and when it is practiced, it will bring blessings to our lives. But to teach this truth, we must emphasize it. Used effectively and constantly, God's Word will keep your classroom healthy and wise.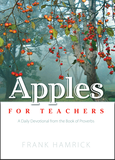 Apples for Teachers